Commercial pool cleaning services from Triangle Pool are offered to condominium associations, water parks, property management companies, hotels and resorts, mobile home parks, and private clubs in Bradenton and the surrounding areas. Public swimming spaces go through much more use than residential ones, so in turn, they require much more upkeep. This attention can be stressful and time-consuming because of their larger size, especially during the summer months. Not only does the assistance of our professional services help ease the stress and frustration of taking care of your space, it is beneficial to you and also beneficial to your water.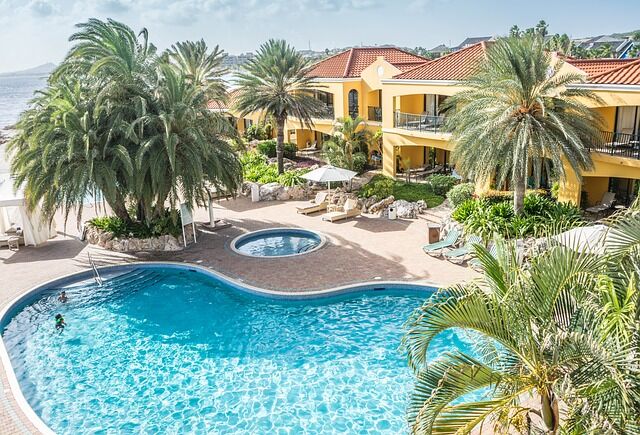 Our Commercial Pool Cleaning Plan
Our company has the training and experience needed to properly maintain larger bodies of water along with extensive knowledge of all chemicals. And we have a plan to make your water the best it can be this summer:
Our professionals will visit your Bradenton property three times each week for maintenance
We offer a flat-rate service plan, so there are no hidden fees or surprise charges. This includes the costs of all chemicals and labor needed.
We will vacuum, skim the surface, scrub tiles, and clear filters as needed
A complete water analysis quarterly, to maintain full health
Our full-service commercial pool cleaning can also help:
Maintain pumps, filters, heating systems, etc.
Deliver bulk orders of chloride and other chemicals needed and distribute mini-bulk orders
Offer specialty product sales, including lifeguard equipment, custom surface covers, diving platforms, slides, etc.
Repair Services
We specialize in a few different pool repair services. We offer health department upgrades and VGB entrapment solutions as well as AAA compliant solutions. In addition to these services, we also provide energy-saving pumps, lighting, drives, and filtration systems. Lastly, we can do heating repairs. This includes propane, gas, and electric specialists.
Water Management and Systems Solutions
There is a way to maintain your large body of water without all of the efforts. Triangle Pool of Bradenton offers Chemical Automation and OPR Control Unit services. This will give you clear water no matter how large the bather load or the weather conditions. Some of the advantages of choosing to install this water management system for commercial pool cleaning are:
We monitor water 24 hours a day, seven days a week. Even if you're away, you can monitor your water from any of your mobile devices.
We automatically add chemicals and adjust them as needed so they will never go askew.
No matter what weather rolls through Bradenton, there will be ideal water quality. Storms can blow in debris that can throw off chemical balances.
Labor costs, as well as repair costs, will be reduced due to routine upkeep.
The life of your equipment is extended with this high tech commercial pool cleaning.
Owners need no specialized training to operate this system because of its easy use.
Products And Specialty Items
Some of our products include enzymes, balancers, and filter media. There are also specialty items to choose from. Some of these include custom covers, ADA compliant equipment as well as lifeguard equipment. Not to mention you could even get a pool slide! Enjoy lovely summer days with the family with a new slide addition.
Contact Us For Commercial Pool Cleaning Today!
Our professional workers are certified and factory-trained. We are a licensed and insured company that is also authorized for factory sales and service location for all of your equipment needs. We have been taking care of swimming holes of all sizes for over 50 years. Hence, we have the experience that you are looking for in a residential and commercial pool cleaning service.
Trust Triangle Pool Services for all of your upkeep this summer so that you will have one less thing to take care of. Call us in Bradenton today at (727) 531- 0473 to find out more information on our weekly deals on commercial pool cleaning to help you save money. Or email us at info@triangle-pool.com to schedule an appointment with our experts. We guarantee you will love how clean and clear your water can be!